Categories

4K UHD Video Encoder Transcoder

HD Encoder Transcoder Decoder

HD Video Encoder

HD Video Stream Pushing Encoder

HD Video Decoder

HD Video Stream Pulling Decoder

Fiber Optic
Transmission System

4K UHD Video over Fiber
3G HD Video over Fiber
HD Video over Fiber
SDI/ASI over Fiber
HD Video + Audio over Fiber
HD Video + Data over Fiber
SDI + Audio over Fiber

AES/EBU Digital Audio over Fiber

Video + Audio over Fiber

Audio over Fiber

HD Multimedia over Fiber

L-Band Satellite Signal over Fiber

3G/HD/SD UP Down Converter

AES/EBU Digital Audio Splitter

3G/HD/SD-SDI
HD Video Matrix Switcher

HDMI Twisted Pair Extender
Doteck develop and design 4K UHD video fiber optic transport equipment, HD multimedia fiber optic extender, AES/EBU digital audio over fiber, composite video and audio over fiber, analog audio over fiber, UHD 4K encoder, HD video audio embedder/de-embedder, HD video converter, HD video up/down converter, HD video splitter, HD video conference camera, and other digital equipment serving in the area of broadcasting and TV. Doteck is one of the most famous brands in fiber optic transport equipment field.
Doteck was founded in 2001, locating in BEIJING, CHINA. We are committed to technology innovation and developing more and more leading edge products for Doteck global users. Doteck has become one of the well-known brand in the world in last more than 18 years.
Due to our advanced technology and perfect service, we have cooperated with many clients in the area of TV and Broadcasting, Pro-AV, Telecommunication, government, Military army and new media around the world. Because of the bloom of IPTV, digital TV, mobile and 3D TV etc, there will be a great demand for HD video fiber optic transmitting devices and HD video processing equipment, which will bring Doteck many more business opportunities to grow up more quickly!
Doteck sincerely wishes to cooperate & communicate with new clients & old friends. Doteck will keep supplying you products with high quality and best service following our philosophy " Sincerity is base, customers are primacy".

10.Doteck e1 Series
3G/HD/SDI HD Video Audio Embedder


★3G-SDI/HD-SDI/SDI signal auto recognition
★4 analog audio or 4 AES/EBU digital audio embedded, or analog audio and AES/EBU combination
★Ideal HD video audio embedder for TV station, CMMB, IPTV, mobile TV, mobile phone TV, telecommunication operators,government video conference system and other new media field
11.Doteck e2 Series
3G/HD/SDI HD Video Audio De-embedder


★3G-SDI/HD-SDI/SDI signal auto recognition
★4 analog audio or 4 AES/EBU digital audio de-embedded, or analog audio and AES/EBU combination
★Ideal HD video audio de-embedder for TV station, CMMB, IPTV, mobile TV, mobile phone TV, telecommunication operators,government video conference system and other new media field
12.Doteck S1 Series
SDI/ASI Digital Video Splitter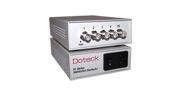 ★Input 2 different 3G/HD/SDI digital video signals, output 4 3G/HD/SDI digital video separately
★Ideal digital video splitter for TV station, CMMB,IPTV, mobile TV, mobile phone TV, telecommunication operators,government video conference system and other new media field
13.Doteck C1 Series
3G/HD/SDI Digital Video to HDMI Converter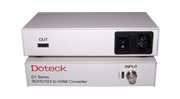 ★3G-SDI/HD-SDI/SDI signal auto recognition, HDMI or DVI-D output automatically also
★Mini small box, delicate, convenient and flexible
★Ideal HD video converter for TV station, CMMB, IPTV, mobile TV, mobile phone TV, telecommunication operators,government video conference system and other new media field